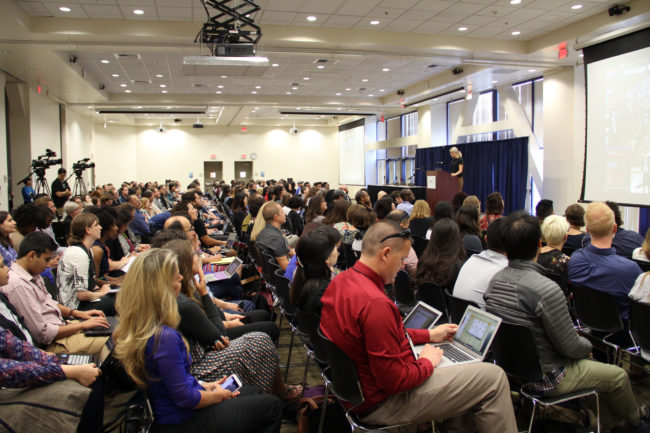 Nov. 28, 2017
Organizers of the Digital Media and Learning (DML) Conference, the Games+Learning+Society (GLS) Conference and Sandbox Summit have joined forces and announced the creation of a new annual event — the Connected Learning Summit — that will debut next summer at the MIT Media Lab.
"I'm excited about the launch of this event. It marks the beginning of the next phase of our collective effort to revolutionize how kids learn," said Constance Steinkuehler, professor of informatics at the University of California, Irvine and former chair of the GLS Conference. "The convergence of these three communities — DML, GLS and Sandbox — promises to catalyze the field of learning technologies in a whole new way. We concluded the GLS event in order to enable this very merger, realizing that the silos we formerly operated within were no longer serving us well."
The inaugural summit, to be held Aug. 1-3, will be hosted by UCI's Connected Learning Lab, the UC Humanities Research Institute, MIT Media Lab and MIT Scheller Teacher Education Program. It will take place at the MIT campus every other year beginning in 2018 and every year in between at the UCI campus.
The summit's purpose is "to fuel a growing movement of innovators harnessing the power of emerging technology to expand access to participatory, playful, and creative learning." It will feature experts discussing creative and playful learning practices with a focus on access, engagement and equity for children and adults alike. Its aim is to be a place where those excited to take learning to the next level gather to learn about cutting-edge strategies in connected learning.
"The Summit will have a progressive and inclusive focus," said Mimi Ito, research director of the Connected Learning Lab at UCI. "It will bring together people truly committed to progressive, catalytic, innovative and transformative approaches to learning."
Summit attendees will be offered keynote and plenary sessions by leaders in academics, industry and nonprofit organizations; presentations on innovative learning projects and research; interactive workshops on technology research and design, games and other media; a lively "hall of failure," featuring honest post mortems on projects, programs and products; smart, fast, performative "ignite" sessions; a community showcase evening event for working papers, tech demos, and ideas; and fireside chats with luminaries across fields.
"I haven't been this excited about a conference — ever," said Eric Klopfer, director of the Scheller Teacher Education Program and The Education Arcade at MIT. "We are bringing together unique communities of educators invested in educational innovation. With the diverse formats of interaction that the conference is supporting, I look forward to seeing, hearing and engaging with these innovators."
Serving on the summit's steering and advisory committee are: Ito, Steinkuehler, Klopfer, Drew Davidson, Samuel E. Dyson, David Theo Goldberg, Akili Lee, Scot Osterweil, Justin Reich, Mitch Resnick and Ricarose Roque.
The call for proposals to present at the summit is open through Jan. 22.
For more information about the summit, visit connectedlearningsummit.org.
For more information about connected learning, visit clalliance.org.
Media Contact:
Mimi Ko Cruz, 949-824-4587, mcruz@hri.uci.edu